We are grateful for our longterm and new donors, whose generous donations during this challenging time assure the continuing work of the Blue Hill Concert Association, offering remote master classes this winter and live performances this spring for Blue Hill Peninsula students as we await the day when we may resume our winter chamber concerts. You may see the listing of current BHCA donors here.
2022 Season Preview: "Verona Quartet"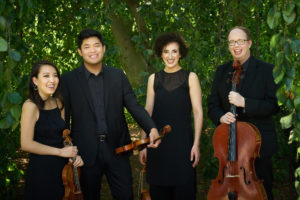 The fourth and final concert scheduled for the 2022 Blue Hill Concert Association season features the Verona Quartet, winners of the 2020 Cleveland Quartet Award. The quartet, violinists Jonathan Ong and Dorothy Ro, violist Abigail Rojansky, and cellist Jonathan Dormand serve as Quartet-in-Residence at Oberlin College and Conservatory. Their repertoire includes both classical and contemporary works, many commissioned for them, and they have engaged in a number of innovative artistic ventures, collaborating with dancers and poets and other musicians, including cellist Joshua Roman and Grammy-winning singer-songwriters, "I'm With Her" (Sarah Jarosz, Sara Watkins, and Aoife O'Donovan).
Arts Fuse (Boston) said of the quartet: "After the Verona finished the fifth movement with a morendo non-vibrato ending, there was a … magnetic silence. No one dared move while the group held their bows still in midair. This was one of those irreplaceable moments of group experience that happen at concerts, when our individual selves fade out for a moment without breath …"
You may get a taste of the stunning artistry of the Verona Quartet by watching and listening to samples of their performances of Mendelssohn's String Quartet No. 44 and Ravel's String Quartet in F below. Mark your calendars: Verona Quartet in concert at the Blue Hill Congregational Church at 3:00 pm on March 20, 2022.