We are grateful for our longterm and new donors, whose generous donations during this challenging time assure the continuing work of the Blue Hill Concert Association, offering remote master classes this winter and live performances this spring for Blue Hill Peninsula students as we await the day when we may resume our winter chamber concerts.  You may see the listing of current BHCA donors here.
2022 Season Preview: "Kenari Quartet"
We are excited to announce that the lineup and dates for the 2022 Blue Hill Concert Association season are set! We will be bringing to Blue Hill all four chamber groups originally scheduled for this winter's postponed season. Performers include two world class string quartets and a dazzling piano trio from Denmark. But the first concert of the 2022 BHCA season features a saxophone quartet. Yes, you heard it right — a saxophone quartet!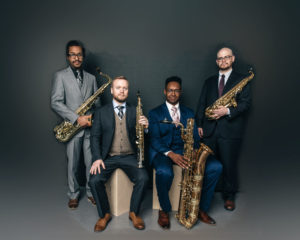 The Kenari Quartet performs an eclectic repertoire, drawing on transcriptions of classical and jazz standards, as well as new music composed explicitly for the saxophone. After an appearance at Portland's 2018 Chamber Music Northwest summer festival, a reviewer with Oregon ArtsWatch wrote: "Whereas many saxophone quartets play as a group of individuals acting in concert, the Kenari Quartet's playing lives and breathes as a single organism, as alive as any world-class chamber ensemble could hope to be."
We look forward to hearing this innovative ensemble perform in Blue Hill. They will be performing at the Blue Hill Congregational Church at 3:00 pm on January 23, 2022. Meanwhile, you may listen to samples of their playing below, excerpts from a transcription of a Bach Concerto and a piece composed by Alexander Glazunov for saxophone quartet.