A special message to Ron Stegall and the Blue Hill Concert Association from Štěpán Ježek
Here is our quartet's new video. You can access it from this link:
https://www.ceskatelevize.cz/ivysilani/13572087828-bennewitzovo-kvarteto-pro-pamatnik-ticha/
It may happen that you see some advertisement first. You can skip it by clicking the bar right on the top of the screen, or you can simply sit it out. Takes a minute or so.
The story is the following:
On 16th October 1941 the very first transport left the very train station where this video is filmed. The transport carried 1000 Jews into the ghetto in Lodz in Poland. Four more such transports followed before the new ghetto was built in Theresienstadt where throughout the war tens of thousands Jews were transported, most of them never to return. We filmed the video featuring Hans Krasa's Theme and Variations, Erwin Schulhoff's Five Pieces for String Quartet and Antonin Dvorak's last string quartet G major, op.106 on the 16th October 2020 as a part of the commemoration of this tragic event.
Please, share it with your friends and with the Blue Hill Concert Association.
Update on Our 2021 Season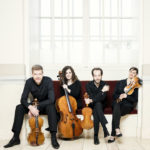 Dear Friends of the Blue Hill Concert Association,
For the well-being of audience members and musicians alike, we have made the difficult decision to postpone our 2021 season. But we are excited to report that all the groups planned for this winter are being rescheduled for 2022. In the meantime, for 2021, we are working with musicians to develop a special series of remote programs for music teachers in local schools.
In these challenging times we remain committed — more than ever — to our two core missions: bringing the very best chamber ensembles from around the world to Blue Hill for live concerts each winter, and providing youth in local schools an opportunity to hear and learn from those same talented musicians.
In lieu of promoting our 2021 concerts, we will be using this website to post monthly updates featuring both past and future concert series performers for your viewing and listening pleasure.  So stay tuned, music lovers!  And, as always, we invite you to visit our Support Our Mission page to make your investment in world-class chamber music for our peninsula.
We look forward to seeing you in person for our 44th Season in the winter of 2022!
October 6, 2020
Robin Rilette and the Blue Hill Concert Association
About seven years ago, friends and supporters of the Blue Hill Concert Association were gathered at St. Francis by the Sea Episcopal Church in Blue Hill for an end of season celebration. The Vienna Piano Trio had just played an unforgettable concert and everyone was so very happy. Robin Rilette had been invited to attend. She had been instrumental in promoting the Blue Hill Concert Association on her Maine Public Radio program. When she walked in beaming, her smile lit up the room.
It is always so easy to talk to Robin and before long she was telling us that Maine Public was splitting in two, and Maine Classical would be born in the fall. I remember thinking: "How are they going to find listeners for a 24-hour classical music station in the state of Maine?" Well, I did not know the power of this dynamo!
Robin's PRELUDE program on Thursday mornings provided a perfect way for the BHCA to get the word out to music lovers. She drew on her encyclopedic knowledge of music and with perfect diction she would promote our upcoming concerts with enthusiasm and down to earth explanations. She was most persuasive and the growth of our audiences was the proof that her publicity was effective.
This wonderful lady from the opposite side of our country brought her highly developed sense of musicality, intuition, and sincere love of music to listeners throughout our state and beyond. Always choosing one perfect selection after another, never mispronouncing a composer or musician's name, she managed to make a difficult job seem effortless. The Blue Hill Concert Association is very grateful for her support. She has been a good friend and we wish her all the best in her future endeavors. The world of classical music in Maine has been most fortunate to have been served by Robin Rilette.
Carolyn Friedell, BHCA trustee
May 18, 2020
Dear Friends of the Blue Hill Concert Association,
Five weeks ago, we announced "Prague Spring Music Festival 2021: Exclusive Opportunity for Friends of the BHCA," an opportunity for Blue Hill Concert Association patrons to attend this preeminent European musical event a year from now. Our Czech host, Štěpán Ježek, violinist with the Bennewitz String Quartet, has just sent us an invitation to listen in to this year's festival, which is currently being streamed online. You may also follow the links on the festival website to hear already completed programs. Here is his letter to us …
Dear Friends, dear music lovers,

Encouraged by my friends whom I was lucky enough to meet during my quartet's concert tours in the United States, I dare now to invite you all to enjoy the wonderful Prague Spring Festival. It is the biggest music festival in Prague, Czech Republic, the city my quartet and myself come from. We are all going through some tough times now, but luckily some of the music venues and festivals decided to share their music events through internet and other channels. That offers us the unique chance to make the best of these unprecedented difficult moments and enjoy some of the great concerts on-line.

Since some of the members of the Blue Hill Concert Association might come to Prague to see and hear the 2021 Festival in person, I would like to let you have a taste of what might await you in the next festival's edition. The concerts are streamed and some of them can be even viewed retrospectively. The whole program can be found here. Don't forget to click on "PAST CONCERTS" in order to view past events.

Let me mention some of the interesting events that might be of interest to you.

14th May
My quartet colleagues and Prague Philharmonia Orchestra accompany the last year's winner of the Prague Spring competition – a fantastic young flute player Chaeyeon You.

16th May
A rare chance to see a historic 1993 recording of then young Leif Ove Andsnes debuting at the Prague Spring Festival.

18th May
A concert of the Collegium 1704, the best period ensemble in Czech Republic. They'll present Bach, Händel and Jan Dismas Zelenka Czech Baroque composer.

24th May
A solo recital of  James Ehnes, one of the best violinists one can currently hear.
25th May
Opera houses in Munich, Vienna, London, Berlin, Milano, Metropolitan Opera NYC and a many other places. That is the career of Adam Plachetka, our recently most successful singer. You can hear him in Schubert's Wintereise.

28th May
Excellent pianist and good friend Jan Bartoš will give his solo piano recital with a very diverse program.

2nd June
An homage to Antonin Dvořák presented by the best of the best – Budapest Festival Orchestra under Iván Fischer with András Schiff at the piano.

3rd June
A historic recording of Beethoven's 9th symphony played at the final concert of the very first festival's edition after the revolution in 1989 with Leonard Bernstein as conductor.

All streams start at 8:00 p.m. which equals 2:00 p.m. Eastern Time. As I said, most of the concerts can be viewed also later.

Štěpán Ježek
Again, the link to access festival events is https://festival.cz/en/program/ Enjoy!
Sincerely,
Board of Trustees
Blue Hill Concert Association