May 13, 2021
The Blue Hill Concert Association is happy to announce that on May 24th they will sponsor two outdoor educational outreach programs for students at the Blue Hill Consolidated School.
Matt Consul, viola, and Katherine Liccardo, violin, will present a program that is sure to excite and inspire the kids, especially after such a long hiatus without live music. Matt and Katherine, who met at Kneisel Hall in 2014, have performed throughout the Northeast in venues ranging from living rooms to concert halls. While living in New York City, they founded and co-directed educational initiatives that provided workshops and performances for kids. They are committed to direct their knowledge and skills as musicians toward joyful musical encounters. Matt is a member of the Portland and Cape Symphonies and Katherine is on the faculty at Queens College Prep Division and the co-director of Kneisel Hall's program for Maine students. In 2018 Matt and Katherine were married at Kneisel and now live in Portland.
The Concert Association also has plans in the works for outdoor programs at Parker Ridge featuring local artists, Heidi Powell, violin, and Max Trexler, cello, in the late spring and Richard Hsu, violin, and Marisa Solomon, cello, will be performing at the Island Nursing Home on July 2nd.
While this has been a challenging time, the Blue Hill Concert Association has taken advantage of the pandemic to work on developing a more specific policy regarding Diversity, Equality and Inclusion using guide lines from other non-profits and Chamber Music America. The board is committed to bringing about these changes through selection of artists and choice of repertoire.
The commitment and mission of the Blue Hill Concert Association remains stronger than ever to bring chamber ensembles from around the world for live concerts each winter and to provide the youth in local schools an opportunity to hear and learn from these same talented musicians.
January 15, 2021
Blue Hill Concert Association: Music for the Future
For the first time in their 43yr. history, the Blue Hill Concert Association (BHCA) has made the difficult decision to postpone the 2021 season of winter chamber music concerts. The well- being of audience members and musicians alike shaped this decision. However, the board is pleased to announce that all four groups originally planned for this winter have been rescheduled, and the community can look ahead to a wonderful season in 2022 featuring Verona Quartet, Trio con Brio, Kenari Quartet, and Ariel Quartet.
BHCA is pleased to announce the award of a $5,000. grant from the Auburn based Onion Foundation. When the decision was made to postpone this season's concerts, the board simultaneously realized that educational engagement with the schools could still happen if funding could be found. The grant will be used specifically to develop and implement a series of special remote and interactive chamber music programs for local schools, with a focus on hiring musicians based in Maine. The goal is to provide something hopeful and meaningful during this challenging time and to provide local students the chance to hear and learn from incredibly talented musicians. The 45-60 minute programs will each offer a distinct and enriching musical experience, as well as creating opportunity and income for professional musicians.
On January 27th & 28, the Axiom Brass will provide an online Master Class and Clinic for students studying brass instruments. A quintet of tuba, trumpets, trombone and horn, Axiom Brass has performed in Blue Hill twice before, exciting the audiences with their "high level of musicality and technical ability." In February, the dynamic Akropolis Reed Quintet who performed with BHCA last winter, will provide an online program for the schools. In the spring of 2021, when warmer temperatures allow, the plan is to offer live outdoor socially-distanced events for schools and in the community. A generous grant from Chuck and Belinda Lawrence of Tradewinds Marketplace will also help to underwrite this educational programing, and the support of many donors will allow BHCA to survive through this difficult time. Until live concerts resume, news and updates can be found on the organization's website: bluehillconcertassociation.org.
A special message to Ron Stegall and the Blue Hill Concert Association from Štěpán Ježek
Here is our quartet's new video. You can access it from this link:
https://www.ceskatelevize.cz/ivysilani/13572087828-bennewitzovo-kvarteto-pro-pamatnik-ticha/
It may happen that you see some advertisement first. You can skip it by clicking the bar right on the top of the screen, or you can simply sit it out. Takes a minute or so.
The story is the following:
On 16th October 1941 the very first transport left the very train station where this video is filmed. The transport carried 1000 Jews into the ghetto in Lodz in Poland. Four more such transports followed before the new ghetto was built in Theresienstadt where throughout the war tens of thousands Jews were transported, most of them never to return. We filmed the video featuring Hans Krasa's Theme and Variations, Erwin Schulhoff's Five Pieces for String Quartet and Antonin Dvorak's last string quartet G major, op.106 on the 16th October 2020 as a part of the commemoration of this tragic event.
Please, share it with your friends and with the Blue Hill Concert Association.
Update on Our 2021 Season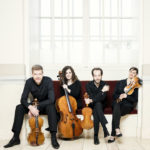 Dear Friends of the Blue Hill Concert Association,
For the well-being of audience members and musicians alike, we have made the difficult decision to postpone our 2021 season. But we are excited to report that all the groups planned for this winter are being rescheduled for 2022. In the meantime, for 2021, we are working with musicians to develop a special series of remote programs for music teachers in local schools.
In these challenging times we remain committed — more than ever — to our two core missions: bringing the very best chamber ensembles from around the world to Blue Hill for live concerts each winter, and providing youth in local schools an opportunity to hear and learn from those same talented musicians.
In lieu of promoting our 2021 concerts, we will be using this website to post monthly updates featuring both past and future concert series performers for your viewing and listening pleasure.  So stay tuned, music lovers!  And, as always, we invite you to visit our Support Our Mission page to make your investment in world-class chamber music for our peninsula.
We look forward to seeing you in person for our 44th Season in the winter of 2022!
October 6, 2020
Robin Rilette and the Blue Hill Concert Association
About seven years ago, friends and supporters of the Blue Hill Concert Association were gathered at St. Francis by the Sea Episcopal Church in Blue Hill for an end of season celebration. The Vienna Piano Trio had just played an unforgettable concert and everyone was so very happy. Robin Rilette had been invited to attend. She had been instrumental in promoting the Blue Hill Concert Association on her Maine Public Radio program. When she walked in beaming, her smile lit up the room.
It is always so easy to talk to Robin and before long she was telling us that Maine Public was splitting in two, and Maine Classical would be born in the fall. I remember thinking: "How are they going to find listeners for a 24-hour classical music station in the state of Maine?" Well, I did not know the power of this dynamo!
Robin's PRELUDE program on Thursday mornings provided a perfect way for the BHCA to get the word out to music lovers. She drew on her encyclopedic knowledge of music and with perfect diction she would promote our upcoming concerts with enthusiasm and down to earth explanations. She was most persuasive and the growth of our audiences was the proof that her publicity was effective.
This wonderful lady from the opposite side of our country brought her highly developed sense of musicality, intuition, and sincere love of music to listeners throughout our state and beyond. Always choosing one perfect selection after another, never mispronouncing a composer or musician's name, she managed to make a difficult job seem effortless. The Blue Hill Concert Association is very grateful for her support. She has been a good friend and we wish her all the best in her future endeavors. The world of classical music in Maine has been most fortunate to have been served by Robin Rilette.
Carolyn Friedell, BHCA trustee