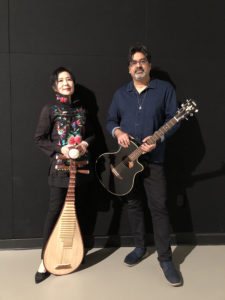 Our second concert features Chinese and American artist, Min Xiao Fen, described by NPR's Ned Wharton as "one of the world's greatest virtuosos." Min plays pipa, a four-stringed Chinese lute, as well as sanxian (three-stringed lute) ruan (another Chinese's plucked instrument), and guqin (a seven-stringed instrument). Min has taught master classes at the Juilliard School, Boston Conservatory, Columbia University, Yale University, and the Amsterdam Conservatory among others.
Min will be joined for our concert by Pakistani guitarist, Rez Abassi, considered to be one of the foremost modern jazz guitar players in the world. Their program will include a collaborative performance of "White Lotus," Min's original score composed to accompany the 1934 classic Chinese silent film, "The Goddess." We will be screening the film as part of the performance! The concert is scheduled for February 4, 2024 at 4:00 pm. Please note the later starting time for this concert to allow enough darkness for the film screening.
Below find links to a video trailer for "White Lotus," as well as a video of Min playing Thelonius Monk on pipa.