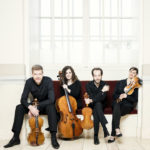 Dear Friends of the Blue Hill Concert Association,
For the well-being of audience members and musicians alike, we have made the difficult decision to postpone our 2021 season. But we are excited to report that all the groups planned for this winter are being rescheduled for 2022. In the meantime, for 2021, we are working with musicians to develop a special series of remote programs for music teachers in local schools.
In these challenging times we remain committed — more than ever — to our two core missions: bringing the very best chamber ensembles from around the world to Blue Hill for live concerts each winter, and providing youth in local schools an opportunity to hear and learn from those same talented musicians.
In lieu of promoting our 2021 concerts, we will be using this website to post monthly updates featuring both past and future concert series performers for your viewing and listening pleasure.  So stay tuned, music lovers!  And, as always, we invite you to visit our Support Our Mission page to make your investment in world-class chamber music for our peninsula.
We look forward to seeing you in person for our 44th Season in the winter of 2022!